As seen in The Huffington Post, November 19, 2013
The elements of a suit are seemingly basic: fabric, buttons and thread. But slip this suit onto the shoulders of a woman starting her job search, and this is where the suit becomes complex. This is where it means something. This is when it becomes more.
For 18 years, Career Wardrobe has been a resource for women just starting their journeys into the workforce. We've provided educational programs, networking tools and opportunities and — most importantly — work attire that give women the confidence and support to improve their lives.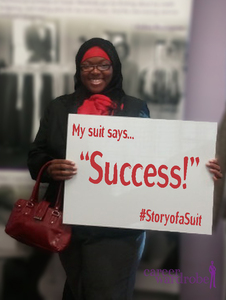 And how is this for a story of success… over 50 percent of the women who come to Career Wardrobe are successful in transitioning to work. And of them, 87 percent are earning over minimum wage and 46 percent are working in positions with advancement potential above entry level.
This year, our Story of a Suit project set out to introduce you to the women we serve. Through their stories our hope is that you will see the immediate and life-altering impact that having a new suit coupled with self-confidence has on a woman's life, her children and her family.
A Suit for Every Interview.
At Career Wardrobe, we combine your support with a woman's determination to improve her life. That is why we are excited to participate in the Crowdrise and Huffington Post's Holiday Challenge. For every $50 we raise this year, one more woman will receive a suit for her job interview. Every suit will have a new story to tell. Stories of hope, determination and opportunity!
You can help us by…
Checking out the Career Wardrobe holiday campaign! And don't forget to invite your friends to join you! It's easy and fun to get your friends involved in giving back! (Trust, us karma is contagious!)