As seen in The Huffington Post
Tell your #storyofasuit to @careerwardrobe or on our Facebook page and help us raise women into the jobs they need and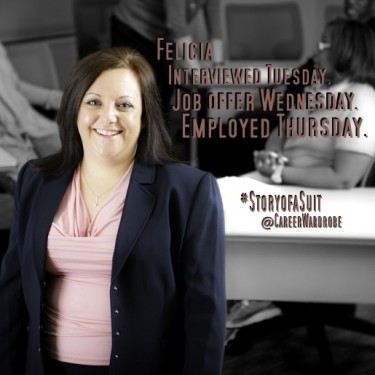 deserve. Help us win The JobRaising Challenge by clicking here.
"When I went to Career Wardrobe, I was spinning, just trying to find my way. I want to cry every time I think about where I was and where I am now."
In her mid-30s, Felicia Roton had had enough of back-breaking labor with unreliable pay and bad hours. The married mother of two teenage girls went back to school and in less than four years, she had earned her Bachelor's Degree in Accounting from Philadelphia's Peirce College.
But when it was time to find her dream job, she faced a challenge: "After being a mom and a waitress, I didn't have clothes," said Felicia, who is now 40 and lives in the suburbs of Philadelphia. "And then I didn't have the money to go out and buy anything."
The college referred her to Career Wardrobe. Clad in her new Career Wardrobe steel gray pants suit, she had her first interview on a Tuesday and her first job offer the next day. Felicia now works in financial processing for a firm in Philadelphia. For the first time, she has a job with a steady paycheck, a 401K, and regular hours.
"Now I'm part of my family again and I feel like I'm supporting them in a way that I never thought possible."
Dressing and Image Consultation, A Program of Career Wardrobe.
The Dressing and Image Consultation Program initiates the development of our clients' professional identities by increasing their self-confidence and preparing them to market themselves during job interviews. Thanks to the generous support of clothing donors and volunteers, Career Wardrobe annually helps nearly 3,000 women achieve self-sufficiency for themselves and their families.
Every woman who is referred to Career Wardrobe receives a week's worth of professional clothing, including one interview suit. Our clients are welcomed into the warm environment of our Dressing Suite and are met by one of our friendly interns or volunteers, who then provide intimate, one-on-one assistance as the client finds an interview suit and wardrobe that makes her look and feel her best.
Each woman who participates in the Dressing Program immediately becomes eligible to participate in our Gateway to Success Job Readiness Education Program and our Wardrobe Careers Internship Program at The Wardrobe Boutique, complementary programs that help women to develop discrete areas professionalism essential to success and growth in the workplace.
Our programs are developed on the only metrics that matter: outcomes measures showing that Felicia is just one of the hundreds of women who see positive changes as a result of Career Wardrobe programs. Once our clients are working, they are on the right path: they are rising out of poverty and into jobs that will lead to self-sufficiency.
90 percent see an increase in self-confidence, professionalism and job preparedness.

47 percent are successfully employed.

87 percent of those with jobs are earning over minimum wage and 49 percent working full-time.

57 percent are not receiving any type of cash assistance representing a cumulative savings to the taxpayer upwards of $19 million per year.
As a part of The JobRaising challenge, Career Wardrobe pledges that if we win the contest, we will expand our service delivery into a new community. That means one lucky community will get The Wardrobe Boutique in their neighborhood, complete with our dressing, education, and internship services! Not only that, if we win we will be asking for your suggestions on what community needs us most.
You can help us win The JobRaising Challenge, thereby expanding our services, by making a donation today!
Does your town need a Wardrobe Boutique? Let us know via Twitter or Facebook and use #storyofasuit to tell your own story of the importance of a professional suit, looking the part, and getting the job.
Story by Natalie Pompilio, Philadelphia Writer. Photograph by Jeffrey Holder.
Story of a Suit was made possible with support from US Airways, Jeffrey Holder Photography,RichArt, and Dudnyk.