First appeared in The Huffington Post
Veronica McKee, Chair of the Career WardrobeBoard of Directors, tells her #storyofasuit. Share yours on twitter @careerwardrobe or on ourFacebook page to appear in a future JobRaising Challenge blog.

Do you watch those closet makeover shows on television? Me too! After just 22 minutes of TV time, an unsuspecting subject who started the show saying things like, "I already like the way I look," or "My clothes express who I really am inside," experiences the big reveal of who they have become with just a change of clothes, hair, and makeup. I love that moment of transformation! Every week they find a person who didn't know how good they could look or how great it could make them feel. And those people will never be the same. They are changed for good, and more empowered than they were at the beginning of the show.
I was recently home from work for a few days with a virus. In between random naps, I spent a lot of time watching fashion television and home renovation shows. Finally I felt well enough to take a shower. Then I decided I'd had enough pajama time, so I put on jeans and high heels and I went outside to my mailbox. Sure, I immediately removed those shoes and put my slippers back on as soon as I stepped back into the house, but I had my moment. In my moment I walked tall, taller than I really felt, and I presented a confident face to the world — or at least to the mail carrier!
There is a reason we all play dress up… because it feels great. We experience that big reveal just like the people on TV. We get to say, "Damn, I look good!" And we know we are right. The "Story of a Suit" series from Career Wardrobe highlights the power of attire to instill confidence and elicit change in a person's life.
We've all heard people in business say things like, "Sometimes the customer just wants to talk to a suit" or "I can't make that decision, you'll have to ask a suit." The confidence and the sense of personal power that comes with wearing professional attire can inspire a person to deliver the perfect presentation or excel in a job interview.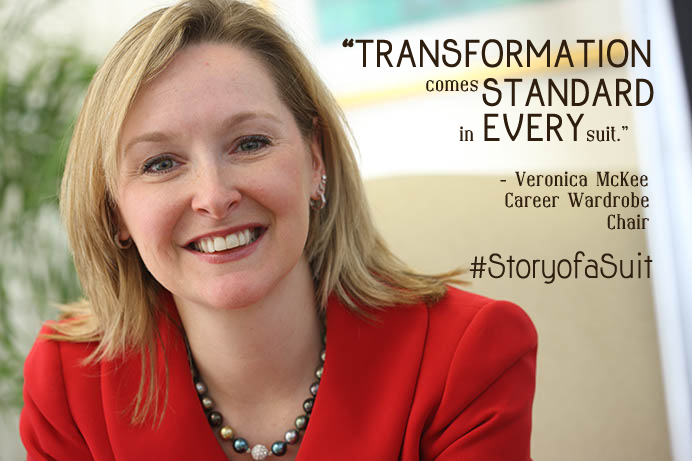 Transformation comes standard in every suit, and did you know that transformation is transferrable? This isn't Cinderella, where the shoe only fits one person. You have the opportunity to turn your gently worn suit into the fuel for another person's makeover. Whoever dons that well-fitting, job-appropriate outfit gets to experience the same boost of confidence that you felt the first time you wore it.
Twenty years ago I got my first "big girl" suit and I wore it to get my first professional job. That suit, and many like it, have since helped me deliver pitches, field customer complaints, resolve business issues, and launch new careers. And not just for me, but for the women who have worn those suits before or after me. Please help me and my colleagues at Career Wardrobe outfit other women who want to transition from joblessness into sustainable careers. Help them play dress up to make a difference in their own life, the lives of their families, and in their communities at large.
I hope you will consider making a donation of just $10, right now, and help Career Wardrobe win The JobRaising Challenge. $10: That's as much as you'd spend on lunch or for coffee this week.
At Career Wardrobe a small gift goes a long way:
• $10 helps a woman accessorize her new outfit with a positive attitude
• $25 adds a pair of shoes to step forward into her new life
• $50 provides a new professional suit for her job interview
• $100 or more enrolls a woman in Wardrobe Careers to practice her new job skills
Job Raising, Amplifying the Transformation for More Women

Career Wardrobe pledges that if we win the The JobRaising challenge, we will expand our service delivery into a new community. That means one lucky community will get our social enterprise resale store, The Wardrobe Boutique, in their neighborhood, complete with our dressing, education, and internship services! Not only that, if we win we will be asking for your suggestions on which community needs us most.
Does your town need a Wardrobe Boutique? Let us know via Twitter (@careerwardrobe) and use #storyofasuit to tell your own story of the importance of a professional suit, looking the part, and getting the job.