First appeared in The Huffington Post
"At first, I thought I couldn't do it. Now, I feel confident. I have people at Career Wardrobe pushing me, opening doors with networking, telling me I can do it."
Born and raised in West Philadelphia, Crystal Marvin's life got off track when she was 17 and had her first child, who's now six. "When I went back to school after I had my baby, they told me I had to leave. They said I was too old." She ended up in job corps, but her dream was to finish her GED and build a career.
After having her second child, she ended up at the People's Emergency Center, a homeless shelter and job training provider in Philadelphia. She thrived in her GED classes and last year, People's Emergency Center recommended Crystal to Career Wardrobe to participate in their new Wardrobe Careers internship program.
As a Career Wardrobe intern, the 23-year-old helped women choose just the right outfit for a job interview. "Some say, 'Oh, I have never worn dress clothes before,'" said Crystal. "I tell them to try it because appearances matter."
But Crystal knows that the opportunity to receive free clothing is just part of Career Wardrobe's services. The real bonus every woman who comes to Career Wardrobe receives is an increased in self-confidence that will help her to stand on her own and bring home her own paycheck to provide for her family.
As an intern in Career Wardrobe's "Wardrobe Careers" program, Crystal has a safe and supportive environment in which to learn her new job skills. She has access to seminars on job readiness and a workplace to practice and use those skills.
Crystal is just one test away from her GED and instead of being afraid of what is to come, she is excited about the future. "Before I came to Career Wardrobe I was really shy. Now, I'm more talkative and able to do things… things I never thought I was able to do."
In seven months, Crystal has transformed from a quiet, self-conscious young woman to one that is ready to take on the world thanks to the support she receives from Career Wardrobe.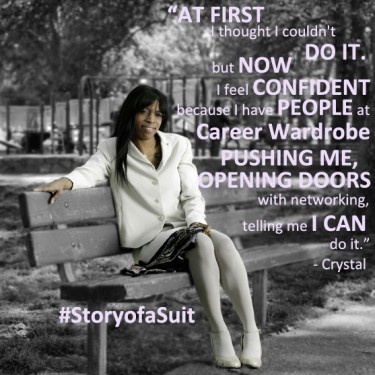 Wardobe Careers, A program of Career Wardrobe
Wardrobe Careers extends our continuum of support by utilizing both our social enterprise resale store, The Wardrobe Boutique, and client services sites as a training ground for unemployed women to learn and practice job readiness skills. This internship program is designed to be a training ground for our clients to practice their new professional skills while giving back to the organization and helping it to succeed and grow.
By bridging support received through image counseling and job readiness education into on-the-job experience, Wardrobe Careers offers clients the experience they need to succeed in relationship-management professions. The skills learned in retail and customer service positions are transferrable to working in industries such as healthcare, retail/shopping/fashion, hospitality, and administrative support.
Job Raising, Moving Women Forward
At Career Wardrobe, we understand unemployment is a woman's issue. Too many women like Crystal have fallen behind as they raised their families and put their own education on hold. As a result, the poverty rate for single mothers in Pennsylvania is 37 percent, a staggering 23 percent higher than the rate for all households.
You can help us change this statistic! Visit www.crowdrise.com/careerwardrobe-jr and make a donation of any amount today.
At Career Wardrobe a small gift goes a long way:
• $10 helps a woman accessorize her new outfit with a positive attitude
• $25 adds a pair of shoes to step forward into her new life
• $50 provides a new professional suit for her job interview
• $100 or more enrolls a woman in Wardrobe Careers to practice her new job skills
Don't forget to encourage your friends to match your donation and tweet your own #storyofasuit to @careerwardrobe.
Join and help us tell the #storyofasuit and raise women into the jobs they need to improve our communities!
Story by Cherri Gregg, KYW Newsradio. Photograph by Jeffrey Holder.
Story of a Suit was made possible with support from US Airways, Jeffrey Holder Photography,RichArt, and Dudnyk.
Tell your #storyofasuit to @careerwardrobe and help us raise women into the jobs they need and deserve, help us win The JobRaising Challenge by clicking here.