First appeared in The Huffington Post
***Tell your #storyofasuit to @careerwardrobe and help us raise women into the jobs they need and deserve, help us win The JobRaising Challenge by clicking here.***
"The suit uplifted me, inspired me, gave me confidence, and made me determined to get out there and do what I had to do… that's what Career Wardrobe does."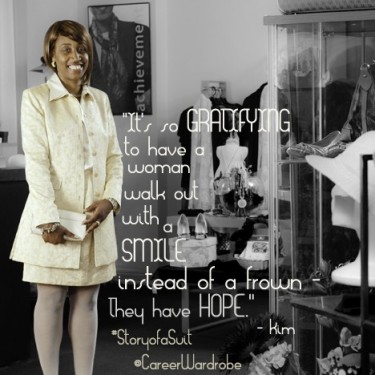 Kim Cottman is a shining star who went from public assistance to a Career Wardrobe employee, working at the organization's resale store, The Wardrobe Boutique.
Before finding Career Wardrobe, Kim was unemployed, depressed and taking care of her children and her ill father. She felt as though she had hit rock bottom. Although very capable as a Medical Assistant, Kim simply couldn't find a job and the vicious cycle of depression set in.
But Kim possesses the capacity for strength and survival. She lights up and smiles now when talking about how far she's come. And more importantly, through her actions, shows other women how to do what's necessary to have a better quality of life.
When working at The Wardrobe Boutique and volunteering at Career Wardrobe, Kim has found a passion for helping other women who might be unsure when they come shopping. "It's so gratifying to see how a lot of those women feel. They come in the door and they're so depressed, but you piece them together and see them walk out with a smile instead of a frown. They have hope."
The Wardrobe Boutique, Benefiting Career Wardrobe and Wardrobe Careers
The Wardrobe Boutique is the Career Wardrobe's social enterprise endeavor: A resale Boutique launched in 2009 that has expanded our service delivery model, increasing our ability to serve women, and is on track to fulfill its goal of providing a diverse and stable source for Career Wardrobe.
Based out of Philadelphia's Fairmount neighborhood, The Wardrobe Boutique offers sustainable style to frugal fashionistas. Casual, professional, vintage or designer… whatever your style, The Wardrobe Boutique has it! We've got a range of sizes and styles at affordable prices, and thanks to the generous support of our donors, new inventory arrives daily.
The Wardrobe Boutique also serves as the location for our new Wardrobe Careers program: an internship for clients who have received in our Dressing and Education services where they may practice their new skills in a professional environment. The skills learned in retail and customer service positions are transferrable to working in industries such as healthcare, retail/shopping/fashion, hospitality and administrative support. With the experience obtained through Wardrobe Careers, our clients have the ability to get and keep a job — just like Kim!
As a part of The JobRaising challenge, Career Wardrobe pledges that if we win the contest, we will expand our service delivery into a new community. That means one lucky community will get The Wardrobe Boutique in their neighborhood, complete with our dressing, education, and internship services! Not only that, if we win we will be asking for your suggestions on what community needs us most. Does your town need a Wardrobe Boutique? Let us know via Twitter (@careerwardrobe) and use #storyofasuit to tell your own story of the importance of a professional suit, looking the part, and getting the job.
Don't forget to help us win The JobRaising Challenge by making a donation today!

At Career Wardrobe a small gift goes a long way:
• $10 helps a woman accessorize her new outfit with a positive attitude
• $25 adds a pair of shoes to step forward into her new life
• $50 provides a new professional suit for her job interview
• $100 or more enrolls a woman in Wardrobe Careers to practice her new job skills
Story by Marilyn Russell, 95.7 Ben FM. Photograph by Jeffrey Holder.
Story of a Suit was made possible with support from US Airways, Jeffrey Holder Photography, RichArt, and Dudnyk.